International Federation of Gynecology and Obstetrics (FIGO) and Summit
FIGO Opinion
The International Federation of Gynecology and Obstetrics (FIGO) opinion on reproductive health impacts of exposure to toxic environmental chemicals is a policy statement by FIGO on preventing exposure to toxic environmental chemicals. FIGO is the leading global voice of reproductive health professionals and its actions have profound resonance. FIGO's Member Societies include 125 countries/territories, and its groundbreaking policy statement on environmental health was published on October 1, 2015 in the International Journal of Gynecology and Obstetrics. Read the statement here.
Download the FIGO graphic of recommendations
The FIGO Opinion concludes with four recommendations to reduce and prevent exposure to toxic chemicals globally. The recommendations are: (1) Advocate for policies to prevent exposure to toxic environmental chemicals; (2) work to ensure a healthy food system for all; (3) make environmental health part of health care; and (4) champion environmental justice.
The FIGO opinion was authored by an international group of ob-gyns and scientists who include representatives from the American College of Obstetricians and Gynecologists, American Society for Reproductive Medicine, International Federation of Gynecology and Obstetrics, Royal College of Obstetricians and Gynaecologists, Society of Obstetricians and Gynaecologists of Canada, UCSF's Program on Reproductive Health and the Environment, and the World Health Organization.
The FIGO Opinion has been formally endorsed or supported by 12 reproductive health professional organizations worldwide. See them here.
Read the French translation here.
FIGO Opinion Communications Materials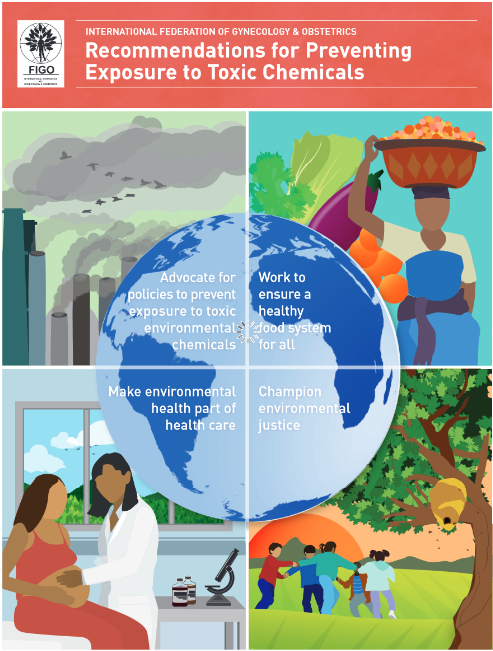 Download the FIGO Opinion Recommendations Graphic here and the Opinion Infographic Drowning in Chemicals here. See the UCSF press release here.
______________________________________________________________________________________________________________________________________________
Watch a short animated video "Why are obgyn's talking toxics?" about the FIGO Opinion here.
Toxins can tip the scales and increase the number of children born too soon. Toxins, which are insidious or invisible, are easily dismissed or ignored, but they can have grave effects on pregnancy and a child's health and development. A single toxin may shorten pregnancy by only 3 to 7 days, but the cumulative impact of exposure to many toxins on preterm birth can be substantial.
Summit on Shaping Our Planetary Legacy: Setting an Agenda for Environmental Reproductive Health
The Summit brings together leaders in reproductive health from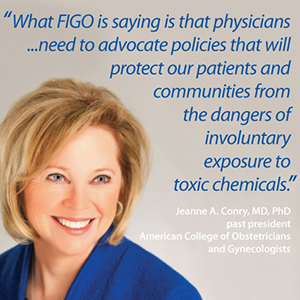 around the globe to develop a plan of action to address exposure to toxic environmental chemicals. The FIGO Reproductive and Developmental Environmental Health Working Group will work to carry this agenda forward and develop new directions, as needed.
Learn more about the FIGO Summit here.
Learn more about the FIGO Summit's participants here.
Watch videos from the FIGO Summit on our video/audio clips page.
Connect with us on Facebook and Twitter.